Connect with him at andypaul. With Tim Campos. Covey Like most of you, I've been on a lot of teams. I've been on big teams, small teams, teams that have done very little and teams that have done a lot!
Teamwork might make the dream work but, this is a fact Tim is as down to earth as leaders get and he shares his experiences on how to build a great team and how to leverage culture in getting it to run at its optimum. It was a fascinating conversation.
PROMOTIONS?
Book Nerds.
Reader Recommendations – Friends to lovers romance books!
Not just about the Facebook stuff but about real strategies from a leader who has actually been in the trenches. I know you'll get as much from it as I did. More on Tim Now, as CEO of Woven, he's taking those lessons to reimagine how people use their calendar, so they can spend time on what matters most to them. From that moment, Tim set to work designing creative tools that would help Facebook employees easily find optimal times and places to meet.
In , he left Facebook to co-found Woven, an intelligent calendar that helps busy professionals maximize their most valuable asset - time. The Last Principle of Success! With Dr. Stanley Robertson. I know I do. I have trouble quitting. In some respects, that tenacity has been helpful in me progressing professionally. In other places, it's hindered my growth.
How about you? On this episode, I'm talking with Dr.
Find A Sport Clips in Your Neighborhood
Stanley, Robertson, The Quit Doctor. He's a fascinating guy with a lot of letters behind his name and we talk about his new book, Quit!
Pema Chödrön - SuperSoul Sunday - Oprah Winfrey Network
The Last Principle of Success. Robertson talks about the book and his four step method of letting go and moving forward in your life. He changed my perspective and I know he'll change yours too!
go here
Happy Valley Racecourse - Go Racing - Racecourses & Entertainment - The Hong Kong Jockey Club
More on The Quit Doctor Stanley G. Robertson grew up in a project building on the south side of Chicago. He pleaded temporary insanity and joined the Marine Corps; then trained as a lawyer and earned a doctorate in business. Stan the coolest person he knows; and predicts that Dr. He is an author, coach and speaker. Biagio "Bill" Sciacca. Do you have something that you're trying to get accomplished or some big, fat, hairy goal that is on your list? You should! This is a fantastic episode!
Honestly, I like them all because I learn so much from my guests but this week was a total joy! I had the privilege of talking with Dr. Bill Sciacca. We talk about goals, motivation, and get metaphysical about leadership.
It has a lot of moving parts so hold on! More on Bill His presentations are solidly backed research presented in a dynamic, readily accessible, and easily discernible format that is conducive for any level of your organization, from boardroom to boiler room. With Jennifer Dawn. Life is about creating yourself. In that regard, I can be my own biggest barrier to getting them taken care of.
Great place for happy hour - Fat Jacks
On this episode, I talk with Jennifer Dawn. Aside from being a coach and serial entrepreneur, she is also a really cool person. She shares how we need to make a decision to go deep and make the changes necessary to succeed. I had so much fun in our discussion and I know you'll have fun listening to it More on Jennifer..
She was then asked to lead and mentor a national network of women entrepreneurs and discovered a love for coaching. Jennifer is a Profit First Certified Coach. She has built two multi-million dollar businesses, is a published author, and accomplished speaker. Jennifer excels at planning, strategy, and execution of business goals.
Skateboard lessons spokane
She uses heart-centered principles to guide business owners in building financially solid companies that are a joy to own. With Jennifer DiMotta. Episode ! I can't believe it! I also can't believe how much I continue to learn on this show from my guests. Most weeks, I feel like the luckiest boy in leader land!
Travelers who viewed Fat Jacks also viewed
And, this week is NO exception! On this episode, I had the privilege to talk with Jennifer DiMotta. She is the BOMB! So smart and gave me a lot to think about in my own leadership journey. We hit it all so be ready More on Jennifer She also has spoke on several panels about female leadership and career development. Yesterday I was clever, so I wanted to change the world. Today I am wise, so I am changing myself. Just looking at my phone I think about how much computing power it has over the first computer I ever purchased in Technology isn't just different, people are also different.
The workforce of today is so much more savvy than it was 30 years ago that it's easy to feel disconnected from those around you. This week, you're in luck! I'm having a conversation with Hospitality Guru, Colin Gold. We talk about all things leadership but, in particular, how leaders need to change with the times if they're going to keep the employees they want to keep and also get them engaged. Colin shares some keen insights and I know you'll get a lot from our conversation. More on Colin in his own words.. I love productivity and finding ways to use my time to spend more of it with my family, visiting Disney, and playing golf.
My Story With over thirty years' experience in the hospitality industry, I worked in hotels and resorts from rooms to rooms. Creating positive work experiences was the key to my success. Early in my career, I learned the value of an engaging work environment. By consistently creating an easy to work, productive environment for my fellow team members, we could distinguish every customer's experience.
Now help businesses develop their leaders to do the same. After graduating from the University of Massachusetts with a Bachelor of Science in Hotel, Restaurant, and Travel Administration, I spent the early stage of my career moving around the country with Hyatt Hotels.
In we finally settled down in Miami, and my wife and daughter have lived here for the past 15 years. I now share my passion and expertise in hospitality with other industries. For the past seven years, I have been working with businesses not usually known for their customer service.
Happy Hour (Racing on the Edge Book 1)
Happy Hour (Racing on the Edge Book 1)
Happy Hour (Racing on the Edge Book 1)
Happy Hour (Racing on the Edge Book 1)
Happy Hour (Racing on the Edge Book 1)
Happy Hour (Racing on the Edge Book 1)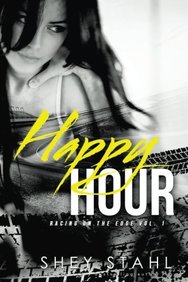 Happy Hour (Racing on the Edge Book 1)
Happy Hour (Racing on the Edge Book 1)
---
Copyright 2019 - All Right Reserved
---